Before anything else, please be aware that there is no such thing as a "fireproof" fabric. If exposed to flame for long enough, all fabric will burn, but there are some materials that resist fire better than others. For example, while cotton burns up readily and easily, wool and Kevlar tend to last much longer.
While there are many smoldering cigarettes and flame spreads that will demonstrate that a fabric has fire retardant properties, the fabric is usually considered to be fire retardant if it passes a Vertical flame test such as NFPA 701. There are exceptions to this rule.
Fire barrier fabrics such as FR Systems Integrity 30 fire barrier are extremely fire retardant, but they do not pass NFPA 701. Fire barrier fabrics help furniture and mattresses pass open flame standards such as CAL 133 and CFR 1633. Fire barrier fabrics need to create char for them to be effective at protecting the article of furniture or mattress. Char creation requires the fabric to burn.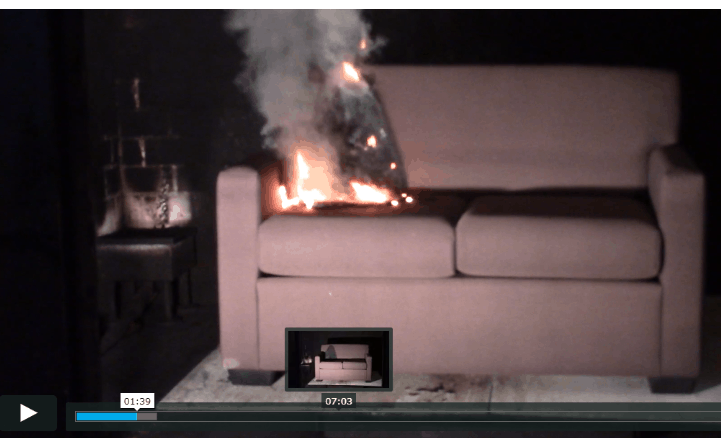 What is the NFPA 701 fire-resistant test?
The NFPA 701 standard (small scale) measures the flammability of a fabric when it is exposed to a small open flame source on a vertical plane for 12 seconds. A fabric passes the standard if it self-extinguishes and meets certain flame, char length, and flaming residue criteria.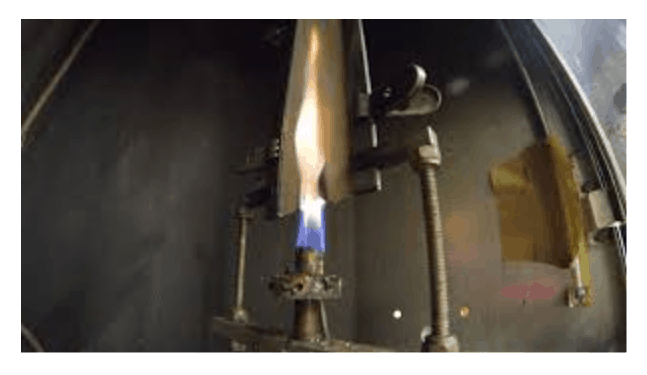 Newer developments in fireproof upholstery fabrics have resulted in the development of fire-resistant yarns. Unlike impregnations, these threads won't lose their fire-retardant qualities after cleaning.
In this article, we will address some of the myths and realities surrounding fireproof upholstery fabrics.
1. What is impregnation?
First-generation fire-retardant fabrics are fabrics that are finished with FR chemicals. This process usually occurs during the dyeing process where FR additives are incorporated into the dye bath. Alternatively, the fabric can be made fire retardant by being chemically treated with FR additives through a dipping or spraying process. The introduction of these non-flammable chemicals is the impregnation process also frequently called flameproofing.
2. What is Inherently Fire Retardant?
Inherently fire-retardant refers to fabrics that are fire retardant by default. Fiberglass and wool are fire retardant because of their natural physical properties. Nomex and Kevlar are fire retardant because of the method at which they are made. Finally, some textiles such as Modacrylic and FR Polyester are fire-retardant because FR additives are loaded into the fiber at the polymer stage to make FR yarns. The FR yarns are subsequently knitted and woven into fabrics. Unlike impregnations, these threads won't lose their fire-retardant qualities after cleaning
3. Fireproof textiles are rough and tough.
This is a myth. Despite the assumption that a fireproof fabric may need to be rougher to resist flame, flame-resistant materials can resemble linen, wool, cotton, and even silk. They can be incredibly soft and light, delicate, and nice to the touch. It would be hard to tell the difference between a fireproof upholstery and any other fabric.
4. Fire-resistant fabrics are bad for you.
Thanks to many chemicals of concern initiatives such as Reach and RoHs, today's Fire Retardant technologies are extremely safe. Almost all fire retardant fabrics such as modacrylic are made from inherently FR yarns. Not only are the FR chemicals safe, but many of the FR additives today are Oeko-Tex compliant. STANDARD 100 by OEKO-TEX® is one of the world's most renowned labels for textiles tested for harmful substances. Safety apparel such as Firemen uniforms are made from these types of fabrics.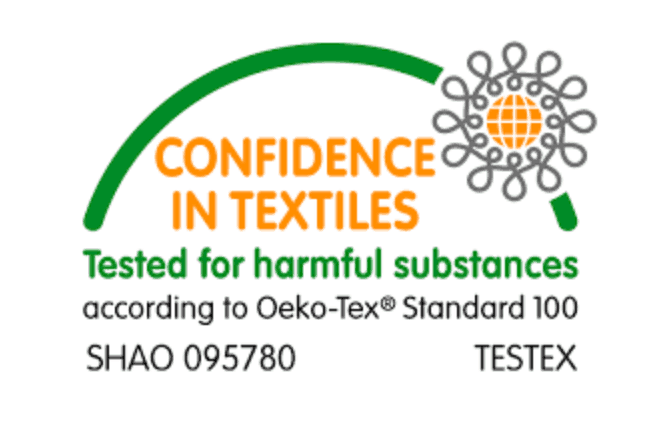 5. Fire Retardant Fabrics are banned in some States.
This is actually true. The state of California's AB 2998 prohibits the sale and distribution of juvenile products, upholstered furniture, replacement components of reupholstered furniture, and the foam in mattresses that contain flame retardant chemicals at levels above 1,000 parts per million (ppm) . However, there are many fire-resistant fabrics that technically, do not contain flame retardant additives. FR Systems FRx Tex HF furniture fire barrier is a fabric that, because of its TCF Rayon and silica glass content, complies with AB 2998. FRx Tex is an environmentally friendly fire barrier that contains no chemicals of concern and complies with Prop 65.
6. The design aspects of fireproof fabrics are inferior.
Choosing fire-resistant fabric will have little impact on your design choices. These fireproof fabrics are meant to be decorative and are made with standards of beauty in mind. It is very difficult to distinguish fire-retardant fabric from any regular upholstery fabric. Health care fabrics are made with an FR additive that is incorporated into the fabric's fluid-proof coating. The percentage of the FR additive is so minute that the properties of the fabric are not compromised.
7. Fire-resistant fabrics do not keep the fire from spreading.
This is also a myth. The truth is the exact opposite. Thanks to the unique technologies used to produce these flame-retardant fibers, these materials can hold back fire and win up to ten minutes of evacuation time. Statistics suggest that curtains, carpets, and furniture upholstery are some of the first things to break out in flame, so those fire-resistant fabrics can really make a difference when it comes to protecting yourself.
8. Smoke from smoldering fireproof fabric is hazardous.
Since fire-retardant materials generally won't contribute to the spread of fire, the substances they eventually release will not be of concern to your health. Thanks again to the time you save in an emergency scenario due to the fire-resistant materials, fireproof upholstery is generally safer than the alternative.
9. Fireproof fabric is expensive.
This is also false. When you calculate the cost of sewing curtains made of traditional high-quality synthetic materials compared to curtains made of flame-resistant fabrics, there is not a drastic difference in price.
---
FR Systems International is your place for professional fabric that can serve your every need. With over 30 years of experience in providing fire retardant, technical and industrial textiles to several fields (including medical textiles, school housing, and furniture), FR Systems will provide durable, reliable textiles for your needs. Please visit frsystems.ca for further inquiries.
.