In the medical field, every choice is vital in assuring the health, safety, and comfort of your patients. As the study of medicine continues to make strides in both information and technology, so too does the need for better client service grow. Even choosing the right upholstery and textiles for the medical field can have a huge impact on a patient's well-being. Your choices can create a better space for your patients by accelerating the healing process, keeping the necessary spaces clean and sterile, and ultimately increase a patient's life expectancy.
The primary goal of all medical institutions is providing quality care and comfort for their clients. Healthcare upholstery only makes it easier for the industry to provide to its clients this top service, and it can do so through a wide range of products:
Fluid proof mattress covers.
Fluid proof upholstery fabrics for armchairs and sectionals.
Allergen barrier pillow cases and mattress encasements.
Fluid proof, antimicrobial institutional shower curtains.
Low sheer antimicrobial bed linens.
Antimicrobial pillows with "wipe clean and disinfect "properties.
Hospital mattresses and stretchers.
Highly elastic wheelchair cushion fabrics.
Incontinent Mattress Pads
High Temperature Wash Durable bedspreads and blankets
Slippery Patient mobility fabrics for slides and postural aids
Wheelchairs and cushions
All products are made from highly technical fabrics that are "hospital quality". Put differently, they are durable, fluid-proof, antimicrobial, and fire resistant. For the benefit of infection control, these fabrics are easily cleaned and disinfected. In this way, healthcare upholstery increases the care provided to clients and the efficiency with which care can be provided.
Furniture Covers (Healthcare Upholstery)
The furniture covers come with a fabric that has a polyurethane or PVC coating that keeps your facilities safe and sanitary. The coatings protect medical furniture from contamination by chemicals and biological fluids. These fabrics have antibacterial, antifungal, antistatic, and anti-allergenic properties for easy client care. This membrane even provides 100% protection against unwanted moisture. In most cases the furniture is also resistant to allergens, dust mites and bed bugs.
Hospital Mattress Covers (Healthcare Upholstery)
There are 2 basic types of medical fabric mattress covers: conventional and dynamic. While conventional mattresses are basic, dynamic mattresses are much more complex.
Conventional medical covers are made from fabrics such as Poly Vinyl Chloride ( PVC), fabrics, and woven nylon. Referred to as first-generation medical fabrics, they are ideal choices for conventional medical mattress covers because of their strength, durability, and flexibility. As these fabrics require less energy to produce than most, they enable manufacturers to make extremely cost-effective covers.
Conventional covers rarely stretch but offer good support. They are also classified as LVT covers (low Vapour Transmission)
Dynamic mattress covers are made from cast coated polyurethane knits. One of the most innovative fabric developments in recent years concerns cast coated knits. These fabrics are engineered to have two-way or four-way stretch properties and have a breathability aspect to them. The breathability aspect of these fabrics refer to the fabric's moisture vapour transmission rate ( MVTR). In addition to blocking the transmission of foreign fluids, these fabrics will allow heat in the form of vapour moisture to pass through the fabric.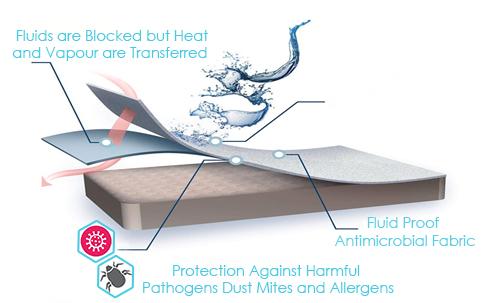 In fabrics, MVTR is extremely important as it prevents heat build-up and it keeps the patient from unnecessary sweating. A fabric with a MVTR in excess of 200 such as FR Systems Elastatex VXC or Elastatex Platinum is considered very good. That MVTR prevents the patient from sweating excessively. The stretch and breathability aspects of these fabrics dramatically reduce interface pressure between the mattress surface and the bony prominences of the patient. Ultimately, this helps to reduce the incidence of decubitus ulcers (bed sores).
The treatment for pressure ulcers is lengthy and causes a significant financial burden on the healthcare system. In the United States, an estimated $11 billion dollars is spent on pressure ulcers yearly, with $500 to $70,000 being spent on a single wound.1
Both types of medical covers aid infection control by creating a barrier to bodily fluids while providing an easy to clean surface that meets the rigorous demands of infection control protocol.
Wheelchair's and Cushion Covers
Mobility devices such as wheelchairs, wheelchair cushions and scooters also require unique medical fabrics. Mobility device covers need to offer hospital-quality pressure reduction properties but at the same time be extremely durable to withstand outdoor elements. UV resistance, antimicrobial properties and the ability to remain fluid proof after excessive use is paramount.
In addition to having superior UV resistance and mobility, device covers need to be comfortable as they have to stretch. Stretch properties and superior antimicrobial prep provide equal pressure distribution, while durability means the fabric remains waterproof after excessive use. Improved lightfastness also helps prevent UV fading.
Allergen Encasements and Protector Covers
Encasement and protectors are multi -sided, zipper covers that prevent foreign contamination of a mattress or pillow. Sweat and body oils can prematurely break down the bedding products and compromise product warranties. The range of membrane fabrics – products that are additionally protected by a sewn-in polyurethane membrane – provide these features:
Repellent against fluids and contaminants,
Keeping dust out of the airways,
Protecting product from dust mites, and
Allowing the product to breathe due to its microporous structure.
Conclusion
Modern medicine never stands still. As the medical field continues to improve its knowledge and techniques, so too should customer service standards improve. Whether it is a preventative sanatorium or a professional surgical institution, care for the client and their comfort should always come first.
By purchasing medical fabrics for healthcare upholstery, the work of your staff becomes very straightforward: Your furniture will clean easily and prevent serious issues that arise from poor sanitation. It is convenient for medical institutions of any type: hospitals, sanatoriums, laboratories, maternity hospitals, nursing homes, and preventive treatment centers.
Resources
1. Sen CK, Gordillo GM, Roy S, et al. Human skin wounds: a major and snowballing threat to public health and the economy. Wound Repair Regen 2009;17:763–771 [PMC free article] [PubMed] [Google Scholar]
---
FR Systems International is your place for professional fabric that can serve your every need. With over 30 years of experience in providing fire retardant, technical and industrial textiles to several fields (including medical textiles, school housing, and furniture), FR Systems will provide durable, reliable textiles for your needs. Please visit frsystems.ca for further inquiries.
.