StaminaFibre ®
The thrill is in the fill !
StaminaFibre® is a revolutionary new filling material often referred to as as synthetic down. StaminaFibre® is comfortable (like down), yet hypo-allergenic and completely washable. Unlike competitive fills, bedding products made with StaminaFibre® remain fluffy and resilient even after repeated wash cycles.
Best of all, because StaminaFibre ® products last longer, they represent value. Amortize the cost of a StaminaFibre ® pillow over its useful life , and you have the most economical pillow in the market.  Check out the StaminaFibre Video here https://youtube/XAOBJizsKxw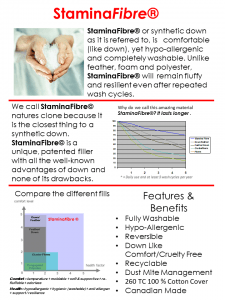 need details? contact us today.