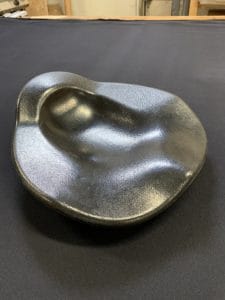 Proof VXC is a polycarbonite urethane coating system designed to make foam cushioning fluid proof and abrasion resistant. It has good light fastness and exceptional resistance to hydrolysis and cracking.  For the benefit of infection control, Proof VXC films can be cleaned with neutral soap and most disinfectants such as virox.   The Proof VXC film functions to block the transmission of foreign fluids, allergens, and dust mites. Proof VXC facilitates a long lasting clean and hygienic environment for seating foams in health care furniture.
Proof VXC  can be applied to polyethylene, EVA, as well as to many plastics such as ABS.  The Proof VXC coating system has been in use in the medical industry for over 20 years.   In addition to exhibiting excellent abrasion, puncture, moisture and urine resistance Proof VXC is a very easy compound to processes ( Spray Application ) . Typical Proof VXC applications are foam positioning devices, buoys,  packaging, seat cushions, boat and dock bumpers.
need details? contact us today.